Bosch 12 Volt Jig Saw
Bosch JS120BN 12v MAX Barrel-Grip Jig Saw Review
Manufacturer:
Bosch
Model number:
JS120BN
Power source:
12 Volt - Cordless
Weight:
3.3
I was recently asked to take another look at the Bosch 12v Max Barrel-Grip Jig Saw for another perspective and to see how well the features have held up since its release date (
take a look at Rob's original review here
). After using the saw to work on a new trim package and running it through its paces in the shop, I can say that if you are currently invested in the 12v lineup from Bosch, this saw is definitely worth a look.
Size
The Bosch JS120 comes in at a diminutive 3.3 pounds and is very compact. It fits easily into tight spaces and is extremely comfortable due to the barrel grip design. Although small in stature, this saw definitely packs a punch. With an orbital 3/4" cutting stroke, it definitely has the power to cut through its 2-3/4" maximum depth of cut.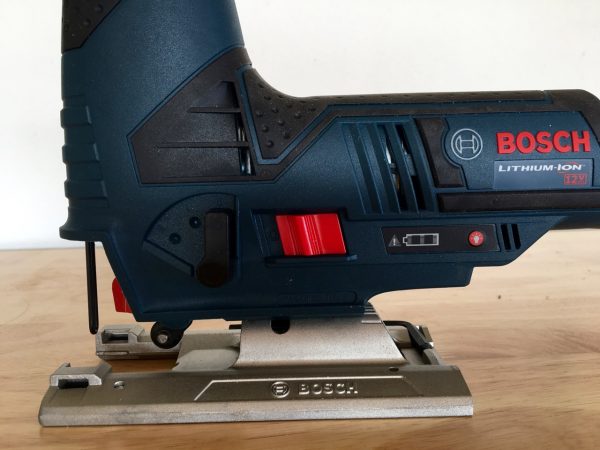 Features on the Bosch 12 Volt Jig Saw
The features on this saw have definitely stood the test of time. It is equipped with electronic motor protections (EMP) and electronic self protections (ECP) which basically just work together to keep the saw and batteries from overheating. These features prolong the life of the tool and batteries.
The blade is inserted and removed with a single-handed tool-less operation that ejects the blade with a single turn of the blade clamp minimizing the need to touch a hot blade. To insert a blade, the user just needs to push in a "t" shank blade. This feature is extremely handy and I found it to work perfectly.
The saw bevel necessitates an allen wrench that is securely stored on the tool and bevels from 0-45° in both directions.
An LED light is illuminated from a button on the handle but is only operational when the saw is turned on. Although a very nice feature, I found this operation to be located poorly and tricky to do with one handed operation.
A 3-speed orbit selector switch is included to maximize efficiency in operation through different materials. There is also a battery charge indicator the displays the remaining charge on the battery.

Bosch 12 Volt Jig Saw Safety Features
The JS120 also comes with loads of safety features including a brake and a restart protection. I personally found the brake to be very useful. Many contractors and carpenters, myself included, set the saw down with the blade still moving. This can be dangerous for the user and can also damage blades and expensive materials. The brake quickly shuts down the saw after the switch it shut off.
The restart protection feature is another layer of safety that eliminates the saw from turning on if the power is disconnected with the power switch still in the "on" position. This is nice if the battery goes dead and the user forgets to turn off the saw.

Bosch 12 Volt Jig Saw Specifications
Bevel Angle Range:  0° to 45°
Height – 6.75"
Jig Saw Blade Type – Jig Saw T-Shank
No Load SPM – 1,500-2,800
Stroke Length – 0.75
Length – 9.4"
Weight – 3.3lb
 Width – 3.0"

Using the Bosch 12 Volt Jig Saw
When asked to "re-review" or follow-up on this review, I was nervous of sounding a little repetitive as Rob does a fantastic job of thoroughly covering all of the tools he has the opportunity to check out. All of the objective and tangible aspects have stayed the same. I was basically asked to give my opinion on how the tool works.
Unlike Rob, I am a big fan of the barrel-grip design. I think the overall ergonomics are second to none, and personally, believe that the design helps aid in superior cuts. I think the Bosch is comfortable and compact and I can see a use in almost every type of contractor's repertoire of tools. That being said,
I agree with Rob in that I prefer a variable speed trigger. On the Bosch JS120, the switch placement is only designed for right-handed users and the variable speed knob makes it difficult to adjust on the fly. I think Bosch should rethink their design to include a variable-speed trigger that would accommodate both right and left-handed users and to allow the user to adjust the speed according to the material.
The single-handed blade insertion and extraction is a great feature as well as the LED light. However, I found the LED light to be in an awkward position and almost impossible to do one handed. The saw comes with a "zero-clearance" anti-splinter plate to reduce tear-out and a no mar plastic base plate which helps when dealing with high-end product. The saw is very well-balanced and extremely comfortable. I could make extremely precise cuts and the battery life was a non-factor.

Overall Impression on the Bosch 12 Volt Jig Saw
Although I would prefer a variable speed trigger on this model, the features and usability make this saw stand out. You can achieve extremely high quality cuts in a very small footprint which make this saw worth a look. Although several years old, Bosch had made a very respectable tool which has stood the test of time, and at $99.00 it is well priced.
About the author
Disclosure
Product reviews on this site contain our opinion of a product or service. We will always strive for objectivity and transparency in our reviews. Our goal is to provide readers with honest, objective information based on our own experiences. We never have and never will accept payment in exchange for a positive review. Many of the products that we review are provided to us for free by a manufacturer or retailer. In some cases, we also have advertising or affiliate relationships with manufacturers and retailers of products and services we review. For additional information please visit our additional disclosure policies.