---
Tool Designed for Simplified, Daily Jobsite Use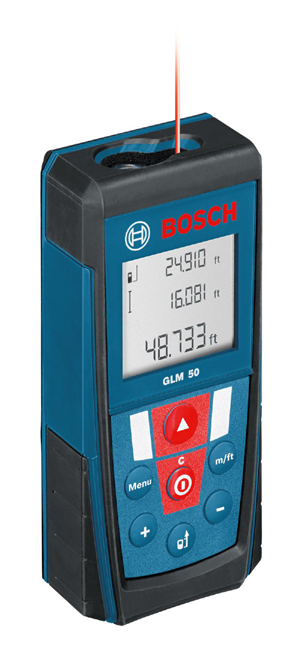 Mount Prospect, Ill., March 12, 2012 – Bosch is expanding its laser distance measurer portfolio with the launch of the new Bosch GLM 50, designed for users who need a simplified, yet durable laser distance measurer for daily use on the jobsite. With the five most commonly used measurement modes, a backlit display, and an accuracy of up to 1/16-inch, the GLM 50 is the most complete laser distance measurer in its class.
The tool is ideal for interior applications that require length, area, volume and surface measurements, such as:
Estimating material needs for plumbing, HVAC and electrical installations
Taking room measurements before laying tiles, carpet, wood and other flooring materials
Estimating materials needed for drywall, paint and other wall covering materials
Checking dimensions in building shells
The GLM 50 offers users a precise measuring solution with an accuracy within 1/16-inch and a distance up to 165 feet. Users can select between the five most widely used measuring modes by toggling through one button: length, area, volume, continuous and indirect height. Three measuring reference points are available: from the front, back and center of the unit with an optional tripod.
The tool features a new slim design with a large, three-line, automatic backlit display for best readability in any situation. Its simplified seven-button design includes the most widely-used functions communicated clearly for ease of use. Round buttons with a silicone overlay offer users the best feel, while large soft grip areas surrounding the tool offer increased ruggedness and durability. The tool has also been jobsite tested and is protected against dust and water to IP 54 and is drop resistant to 3 feet.
The Bosch GLM 50 is now available through authorized Bosch distributors nationwide. Included are a belt pouch and carry loop, two AA batteries and a user manual. To find out more or to find a local dealer, visit www.boschtools.com or call 877-BOSCH-99.