---
Hart Hammers Lineup Including Hickory, Steel & Fiberglass

It seems that hammers have been reborn in this Country over the last year. We've seen major improvements and offerings from nearly all the manufacturers of hammers. Today is no exception as I introduce you to an entire lineup of hammers from Hart Hand Tools. They sent us one of their hickory and steel hammers to check out and we think you're going to love them.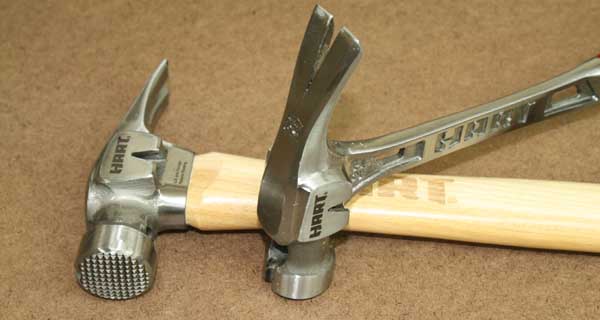 Key Features
Angled Face Design drives nails more efficiently with every swing
Innovative Side Nail Strike is perfect for driving nails in tight spaces, such as between studs
Side Nail Pull offers enough leverage to remove 16d nails in one fluid motion.
Thumb Indent for a better grip and maximum control on a precision strike
Magnetic Nail Set for duplex and standard framing nails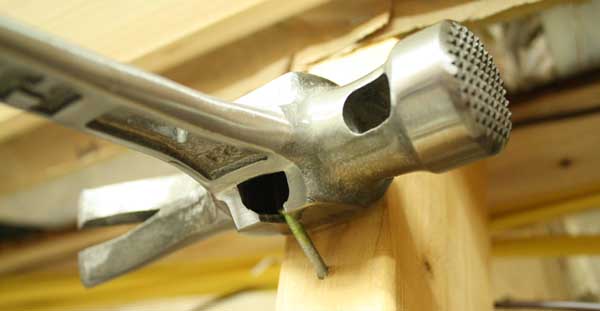 Quality Materials & Great Features
In a super competitive world of tools the name of the game these days is quality products that offer great features at a reasonable price. Hart hammers have got that figured out!
This entire lineup of hammers are built from some great materials made to last through thick and thin of construction. Once you pick up one of their hammers you'll quickly realize they are built to last. Whether it's the Grade A hickory version or the steel shaft I was very impressed.
The Hart hammers also offer all the latest and greatest in hammer features. I've become a huge fan of the side nail pull and the magnetic nail sets and can't imagine a good hammer without them today.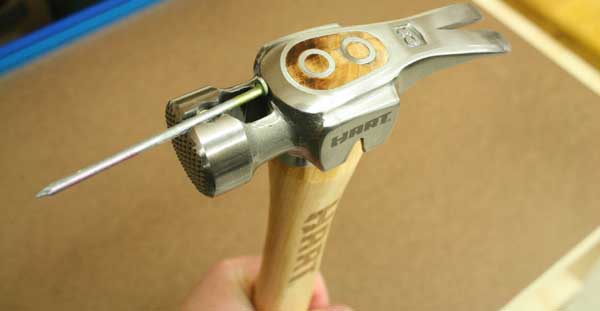 The Hart Lineup
As you can see above Hart has created an extensive lineup of hammers. These hammers will be available starting this month in select Home Depot stores as well as online at HomeDepot.com (not all of them appear online yet). The lineup includes:
Hickory – 18 oz., Smooth Strike Face, Straight Handle – Buy Online
Hickory – 21 oz., Smooth Strike Face, Straight Handle – Buy Online
Hickory – 21 oz., Milled Strike Face, Curved Handle
Hickory – 21 oz., Milled Strike Face, Straight Handle
Hickory – 23 oz., Milled Strike Face, Straight Handle – Buy Online
Hickory – 25 oz., Milled Strike Face, Curved Handle – Buy Online
Steel – 21 oz., Milled Strike Face – Buy Online
Steel – 25 oz., Smooth Strike Face – Buy Online
Fiberglass – 21 oz., Milled Strike Face