---
Bosch 18V Cordless Die Grinder – Model DGSH-181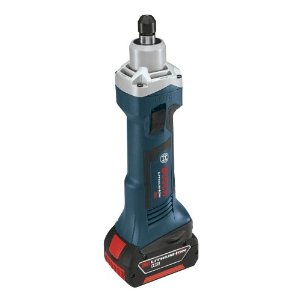 As Bosch continues to expand their ever popular 18V cordless line of tools they continue to pressure the market with incredible tools. They recently sent us their all new 18V cordless die grinder, model DGSH-181. At first I was extremely skeptical about how a cordless tool would compete with an air powered tool. My review and the results will likely shock you as much as they did to me!
Features and Specifications
Best in class power-to-weight ratio – High performance 4-pole motor at <4lbs (tool w/ batt)
Superior ergonomics – Best handling with slim grip for reduced fatigue in extended use applications
Flexible Power System (FPS) – Compatible with Fat and Slim Pack batteries
Electronic Motor Protection (EMP) – Protects motor from overload
Slim, soft grip design – For more comfort in extended use applications
Electronic Cell Protection (ECP) – Protects batteries from overload, overheat and self discharge
Battery: Lithium-Ion
Collet Chuck Diameter: 1/4″
No Load RPM: 22,000
Rating: 18V
Voltage: 18V
Weight: 3.97 lbs with Battery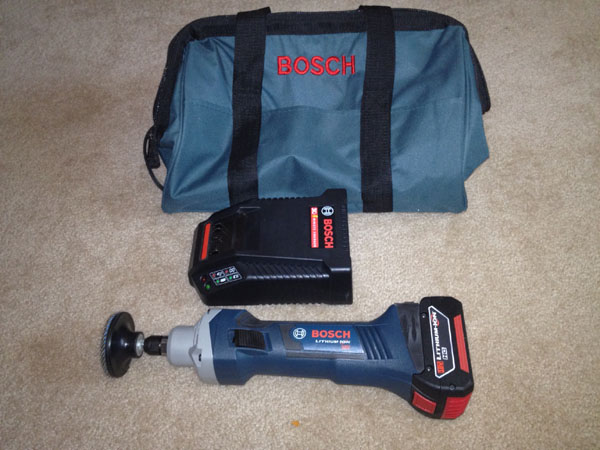 Performance and Evaluation
This new tool certainly fits into my "retirement" gig so to speak. Since retiring as a fire chief I spend my free time building hot-rod cars and restoring classics. So I'm very familiar with air operated die grinders as it's one of the most used tools in our shop when it comes to body work and cleaning up welds.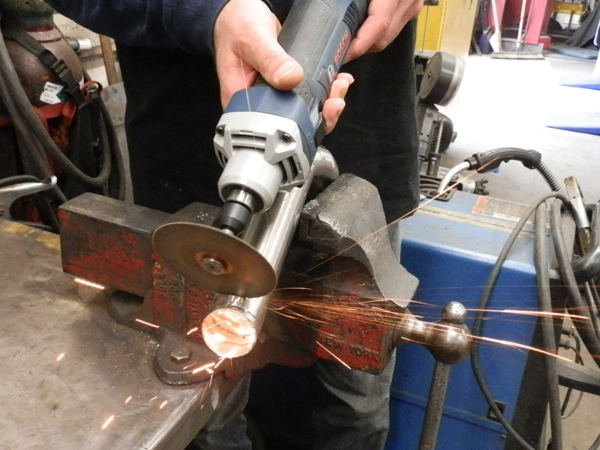 We tested the new 18V Die Grinder in the Hot Rod shop for several days. We used it to not only grind but also cut! As you can see above this new Die Grinder is so powerful you can put cutting wheels on it and start cutting as well!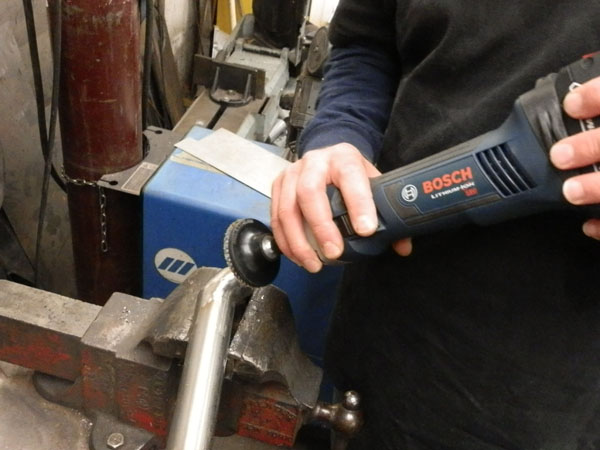 Overall we were blown away at the power the DGSH-181 has. Frankly it has as much power as the air assisted tools we've been using for years in the shop. In addition to the impressive power performance we also noted:
The 19 mm chuck wrenches that come with the grinder make swapping grinding heads quick and easy.
The battery performance was really good. We were very impressed on the run time vs the amount of tasks that it was used for in the shop day after day. In between tasks we just put it back on the charger seeing that the Li-Ion battery allows for more frequent charges.
The built-in battery gauge is a great feature! No more guessing!!
Well balanced tool with a prominent on/off switch location.
Weighing in at 3.5 lbs this grinder is considerably heavier than an air powered die grinder. However, in some situations the extra weight is a welcomed advantage for tool control.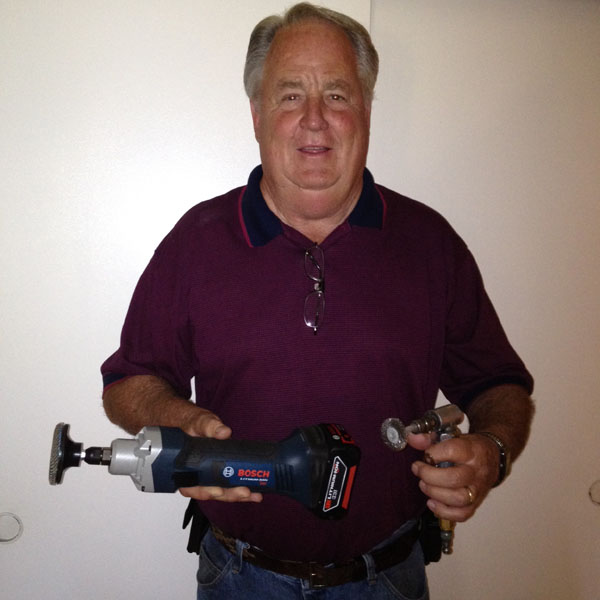 Final Thoughts
The Bosch DGSH-181 is an exciting new tool to go "cordless". In fact, the performance of this tool was so good that we believe it's going to make an immediate impact on the industry. While it's unlikely to kick air powered die grinders to the curb, it will likely offer a great solution for the jobs that don't have access to a good compressed air source or for jobs where mobility is essential.
If we had one "knock" on the new tool it would be the size. As you can see above the Bosch 18V Die Grinder is considerably larger than it's air powered cousin.  Obviously a smaller tool that does the same work would be preferred, however, there are times when the heavier grinder will be a welcome addition to the tool box.
Overall we think this tool is a great asset and a nice addition to any shop that grinds with power tools. If you're looking for a more mobile die grinder this tool is great for the job. If you'd like to buy it you can at your local Bosch dealer or online at:
-